Feelnets specialising in customised hammock
Feelnets company specialized in the manufacture of custom-made technical hammock and factory for interior and outdoor use.
We offer a wide range of net materials, polyester, polyethylene, polypropylene or dyneema.
Technical net factory made to measure in PVC materials such as Precontraint 492, 392, 362 or Batyline from Serge Ferrari.
Our variety of nets and our knowledge of materials allow us to offer you the ideal product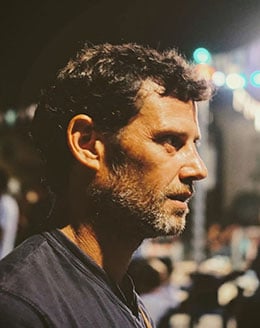 Frédéric Du Rivau, Manager of Feelnets
Frédéric du Rivau, born in 1977, is the founding manager of the feelnets company. Experience in various activities related to customization.
This experience is at your service to accompany you and guide you in making the right choice.
All the materials we use for the net factory have been specially selected by our specialists to design quality products.
Present in the nautical and luxury hotel industry for many years, Feelnets is committed to values and a true tailor-made service for its customers.
Feelnets is also a partner for craftsmen or retailers. Indeed, we seek with you a relationship of trust and loyalty by offering you new and original products for your customers that you can add to your catalogues.
Because each house, hotel or chalet is unique, Feelnets offers you tailor-made products adapted for your comfort.
Feelnets manufactures custom-made nets, do not hesitate to entrust us with your project, a professional will come back to you with a personalized quote.