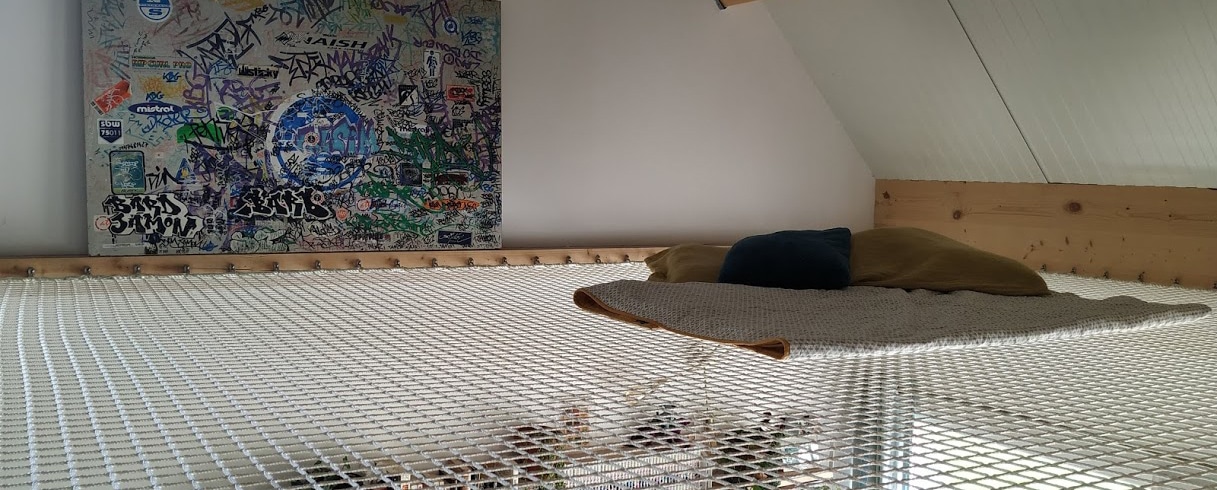 Feelnets for creating custom-made hammock for interior or outdoor use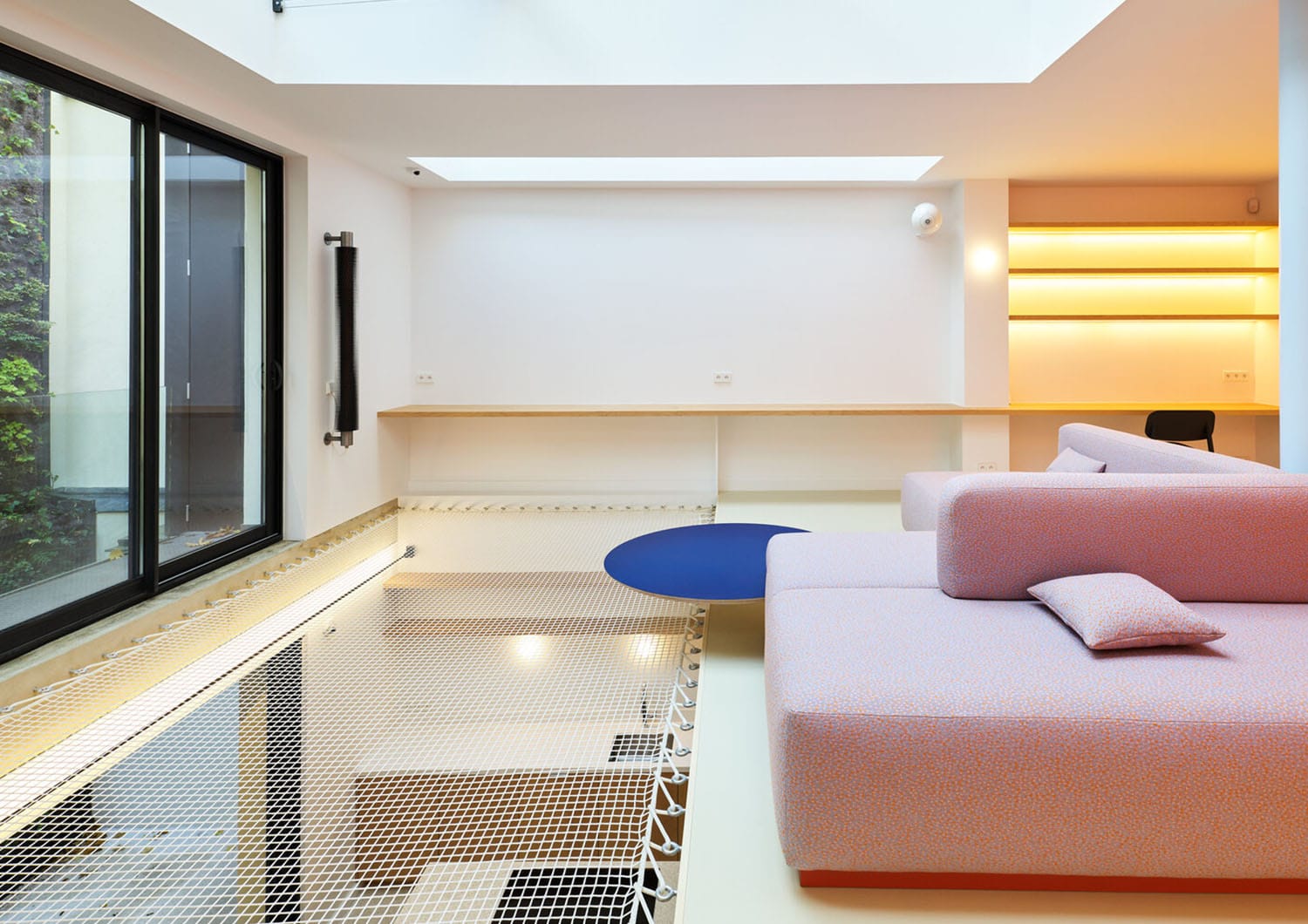 The custom-made interior net or also called housing net or hammock floor is a net stretched into a frame like mezzanine to fill a void in your house, apartment or cottage.
To fix a catamaran net, you need fasteners to be placed every 150mm all around and a tension rope to be laced between the net and the fasteners. It is the rope that will put the tension on the net.
Feelnets offers coloured strings (red/black/white or grey)
Available diameters 10mm, 8mm or 6mm.
Feelnets will customize your interior hammock floor and deliver it to your home anywhere in the world (Canada, USA, UK…).
The principle is to fix the net in a very tight position so that it does not form a pocket but offers a flat and relaxing surface instead of your vacuum.
The interior net of the home offers an atypical, friendly and comfortable space for everyone.
Our nets are very resistant, more than 200kg/m² (mesh resistance only), are UV treated and are available in white and black.
The nets made by Feelnets are tailor-made to fit perfectly into your space.
Once the framework is in place, installation is very simple and requires little time. Feelnets recommends a solid framework: wooden beams, IPNs or concrete. Thanks to a professional technical team, Feelnets supports you in all stages of your project.
Our partners all over Canada, USA, UK (…) will be at your disposal to install your net.
Our nets can be placed in a horizontal position with the interior of the house but can also be placed in a vertical position to make guardrails against falling.
Your personalized quote in less than four hours upon receipt of your dimensions
With simplicity, we take care of everything.
Other possible materials
80 x 80mm white knitted polyester with no white knots
30x30mm white mesh polyamide without knots in black or white
45x45mm polyamid red, green, blue, black, white, yellow…
And much more on request.
They can also be used for outdoor use with their anti-UV treatment to cover swimming pools or other projects.
In the case of a net stretched over a vacuum, the 30x30mm mesh allows light to pass through and remains very comfortable.
The 13x13mm mesh offers a very comfortable surface for children.
Depending on your project, we will be able to recommend the best mesh for you. For installation, Feelnets provides you with detailed step-by-step installation instructions. Our Feelnets technical team remains at your disposal to answer your questions and assist you in each step of the installation of your net.
Material characteristics :
White or black polyester net without knot 30x30mm,
Mesh spacing 30x30mm,
Weight of the material 475gr/m²,
Mesh strength 200kg/m²
Can support the weight of 5 adults depending on the surface area.
White or black polyester net without knot 13x13mm.
Mesh spacing 13x13mm
Weight 700gr/m²
Mesh strength 200kg/m²
Other materials are available, do not hesitate to contact us with your project.
Materials suitable for Interior house
Polyamide mesh de 45x45mm