Feelnets, the custom net designer, welcome to our guide to how to choose the right house net, railing or outdoor net for you. Passionate about multihull boats, and expert makers of catamaran nets, we use our expertise to serve interior design in houses and hotels worldwide as well as safety needs with our custom railings.
So you want a custom-made net? Here is a list of questions that you might find yourself asking, and the answers of our specialists. Together we'll make sure your project reaches its potential.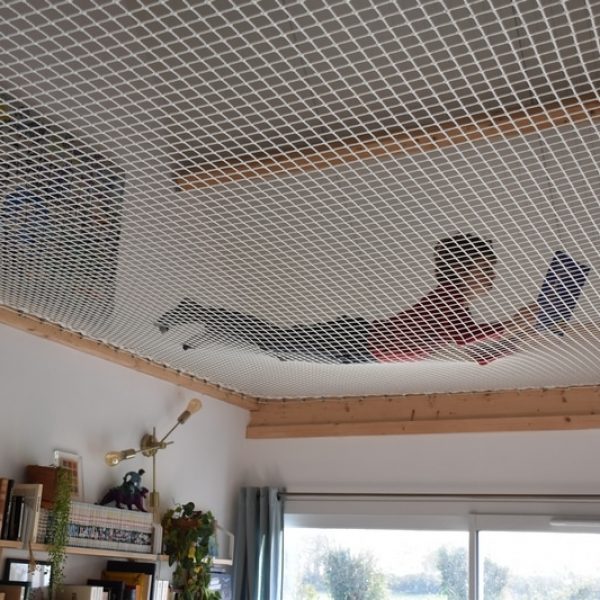 Why a house net?
WHAT ARE THE BENEFITS OF AN INDOOR NET?
The custom-made house net, or indoor net, will provide you a chill zone, a unique environment, with no limits, floating over your kitchen, your living room, your entrance… There are so many places where a net can be set to offer an extra room.
Easy to set-up, it will turn emptiness into a new space, adding volume and cosiness. Have you never dreamt of having a giant hammock at your place?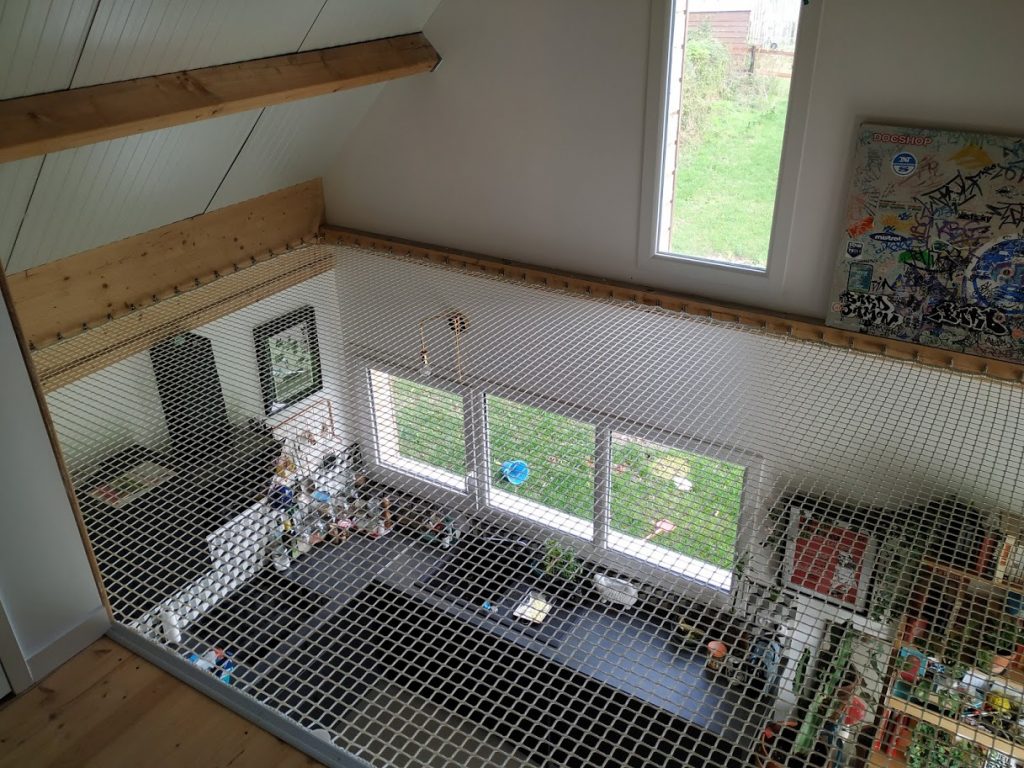 Enjoyable and comfortable, this net will provide you with calm and relaxation in spades.
Fill it with cushions and a fluffy blanket, it's the perfect spot to read a book or watch a movie.
The fabric is smooth and soft. Let the light shine through your inner space.
And the price! You will be truly amazed with the price and the quality of the Feelnets products.
WHICH MESH SHOULD I CHOSE? BRAIDED OR KNOTTED?
We recommend braided mesh for nets in house, hotels, cabins, or anywhere else that the net will be horizontal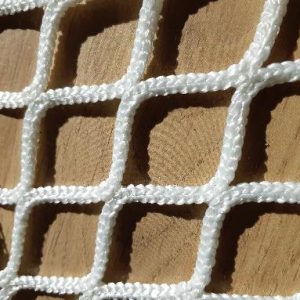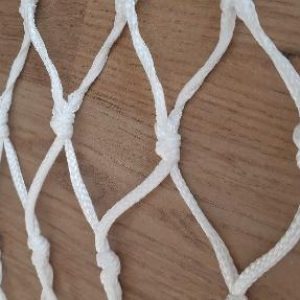 The mesh in the net is braided together, which gives the fabric a silky soft touch to lie on, rest on or walk on.
For vertical nets, we advise the knotted mesh. The knots give depth to your railing, or safety fence around the swimming pool or terrace.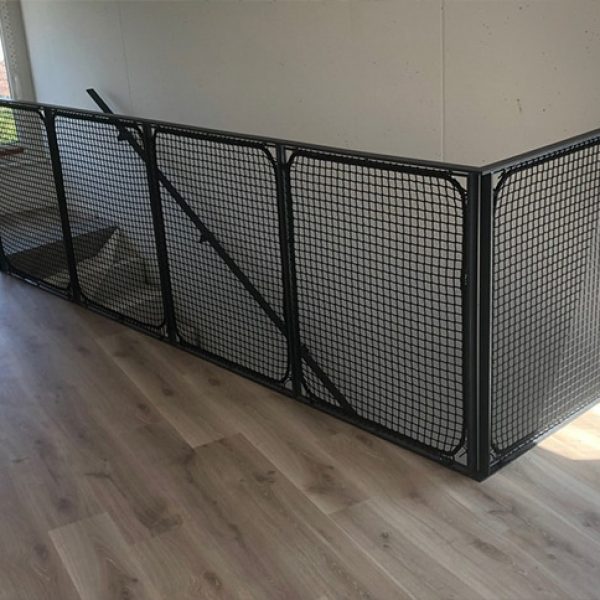 IS THE 30×30 MILLIMETRE MESH (1.2×1.2 INCHES) TOO WIDE FOR A BABY'S FEET?
No, this is the ideal size for the whole family, appropriate to avoid dummies or any other thing that a child might drop slipping through the mesh.
The net mesh is small enough to avoid a baby's foot to slip through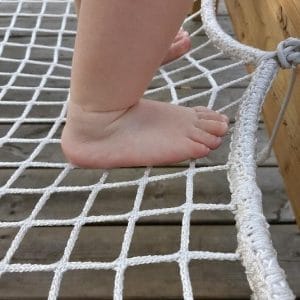 Net's weight resistance
CAN YOU JUMP ON A HOUSE NET?
No, the house net is a hung net stretched with a polyester rope laced between the fixings and the boltrope of the net. That rope is not flexible, thus it doesn't bounce.
CAN YOU FIT SEVERAL PEOPLE ON THE NET?
Yes! You can enjoy your net with several people, this unique and original construct is highly resistant, and can hold more than 240 kilograms per square meter (appr. 529 pounds).
The indoor net mezzanine is very sociable, it will make the whole family happy.
Does that net curve a lot when people sit on it?
Feelnets customizes the nets to your needs.
Our nets are designed just slightly smaller than the dimensions you provide so that they are very flat and very stretched. Thus, the net will only curve a tiny bit when people are on top of it.
Custom made net fabrics
WHICH FABRIC SHOULD I CHOSE FOR MY HOUSE NET?
Feelnets recommends the use of our polyester fabric.
We provide the same fabric to the main boat rental companies and the biggest hotels worldwide.
This fabric has been tested and approved by our commercial partners, it allows us to guarantee a premium quality product.
Unlike other fabrics, polyester remains smooth and cosy, it doesn't get rough.
However, Feelnets also provides polyamide and polypropylene nets.
SHOULD I PICK 30×30 MILLIMETRES (1.18×1.18INCH) OR 13×13 MILLIMETRES (0.51×0.51 INCH) MESH ?
The wider the mesh, the more light the net will let through; the narrower the mesh the more comfortable the net will be.
If you want to bring light inside, Feelnets would recommend without any hesitation to go for the 30×30 mm (1.18×1.18 inch), which guarantees cosiness and allows the light to come through.
On the other hand, if there is no light or window, go for more cosiness with the 13×13 mm (0,51×0,51 inch).
Both of them are made of polyester and can be used outside or inside.Mesh resistance is 200 kg per square meter (440 pounds per square meter).
Black and white nets mesh 13×13 mm (0,51×0,51 inch) and 30×30 mm (1,18 x 1,18 inch)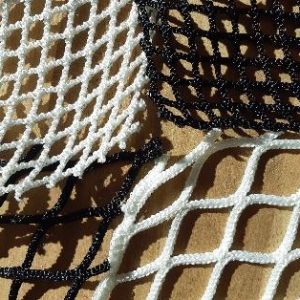 WHY DOES PICKING A LARGER MESH ALLOW FOR MORE LIGHT?
Why should I pick the30 x 30 millimetres mesh (1.18 x 1.18 inch) over a wider mesh that would allow more light to come through?
The 30 x 30 millimetres (1.18 x 1.18 inch) mesh will be thicker and cosier. That thickness is more obvious from underneath, and the net will look like a suspended ceiling.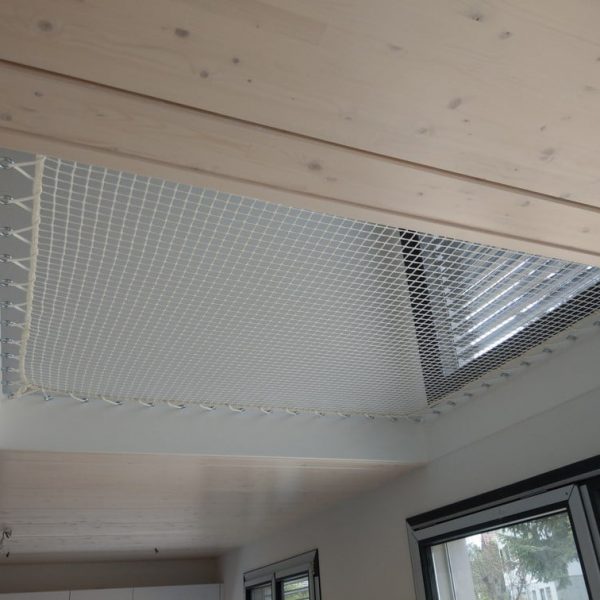 Moreover, the mesh is too wide for a tiny baby's feet,
To help with mums and dads a 30 x 30 millimetres (1.18 x 1.18 inch) mesh is narrow enough to avoid having to pick up the many objects that your child could slip through a wider mesh.
DO YOU HAVE NETS IN DIFFERENT COLORS?
Feelnets provides 13×13 mm (0.51×0.51 inch) and 30×30 mm (1.18 x 1.18 inch) quality mesh in black or white.
The lacing rope also comes in black or white.
We can also provide quality nets in colourupon request.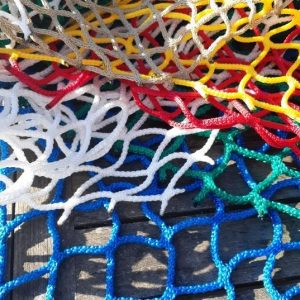 AVAILABLE COLOURS
We provide blue, green, red, yellow, grey, beige nets, but they don't come in polyester.
It is better to use them vertically, as a safety railing.
Colour nets can be used outdoors or indoors.
Glossary
WHAT IS THE NET BOLTROPE?
The "net boltrope" is the phrase used to refer to the edge of the net. It's made of a 10 millimetre (0.39 inch) thick safety rope. You will need to lace the lacing rope around the boltrope to bring a strong tension to your house net.
WHAT IS THE LACING ROPE?
The lacing rope is a 10 millimetres (0.39 inch) thick polyester rope. It is multi-strand built, and offers no flexibility in order to bring a strong rigidity to your house net.
It has a 3000 kgs resistance. It is commonly used as a halyard to raise the boats sails.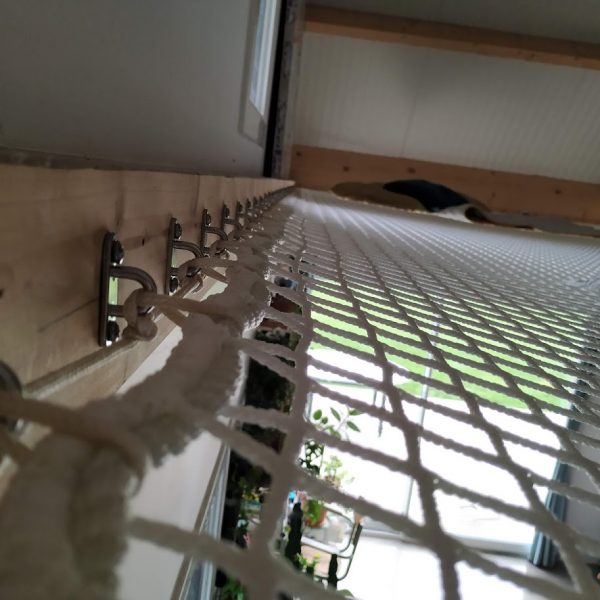 About Feelnets: the French net expert
Feelnets has many corporate partners, including Maserati and Dream Yacht Charters (the world leader in sailing boats rentals).
Feelnets ships its custom nets all over the world, providing for homes, hotels and multihulls.