Buying guide for terrace, balcony and railing nets
You have a terrace, a pool, a balcony and you want to secure the area around it.
Feelnets offers many solutions for vertically placed nets installed outdoors.
A net placed as a railing should not be installed in plasterboard, it is imperative to fix the fixings in hard walls. (Stone, Brick, Wood, Concrete, Metal)
A wide range of mesh spacings for multiple uses.
Sight and wind protection nets,
Feelnets offers several weights from 85gr to 200gr/m². The difference in opening size depends on the use you wish to make of it.
Our products are made of polyethylene and are available in green, black, white or blue.
The finish is made of a sewn-in pinch strip with eyelets placed all around for fixing.We supply the complete kit to correctly install your privacy screen or windscreen.
The kit includes the custom made net, the number of fixings and the rope needed for installation.
Terrace Netting.
Secure your terrace with our custom-made nets.
Our nets offer a resistance of more than 200kg/m² (just the mesh of the net). They are perfectly adapted to secure your terrace.
The recommended height for the railing net is 1000mm (1 meter).
You have several possibilities to fix the safety net.
Either you have an existing railing and you cover the inside with the net and the tensioning is done with the rope passed in lacing between the railing and the edge of the net.
If you do not have a frame, you must create one. Please note that the net must be fixed on all sides to be functional and aesthetically pleasing.
There is a wide choice of netting for outdoor nets, you can choose 48x48mm mesh if you don't want to hide the view, or 30x30mm mesh if you don't want to be seen too much from the outside.
Choose the small 13x13mm mesh so that children can't climb on it by putting their feet in the mesh.
Several colours are available, grey, beige, black or white.
The tensioning rope that allows the net to be joined and tensioned is available in several diameters and colours. (Yellow, blue, green, red, black, white, grey or beige)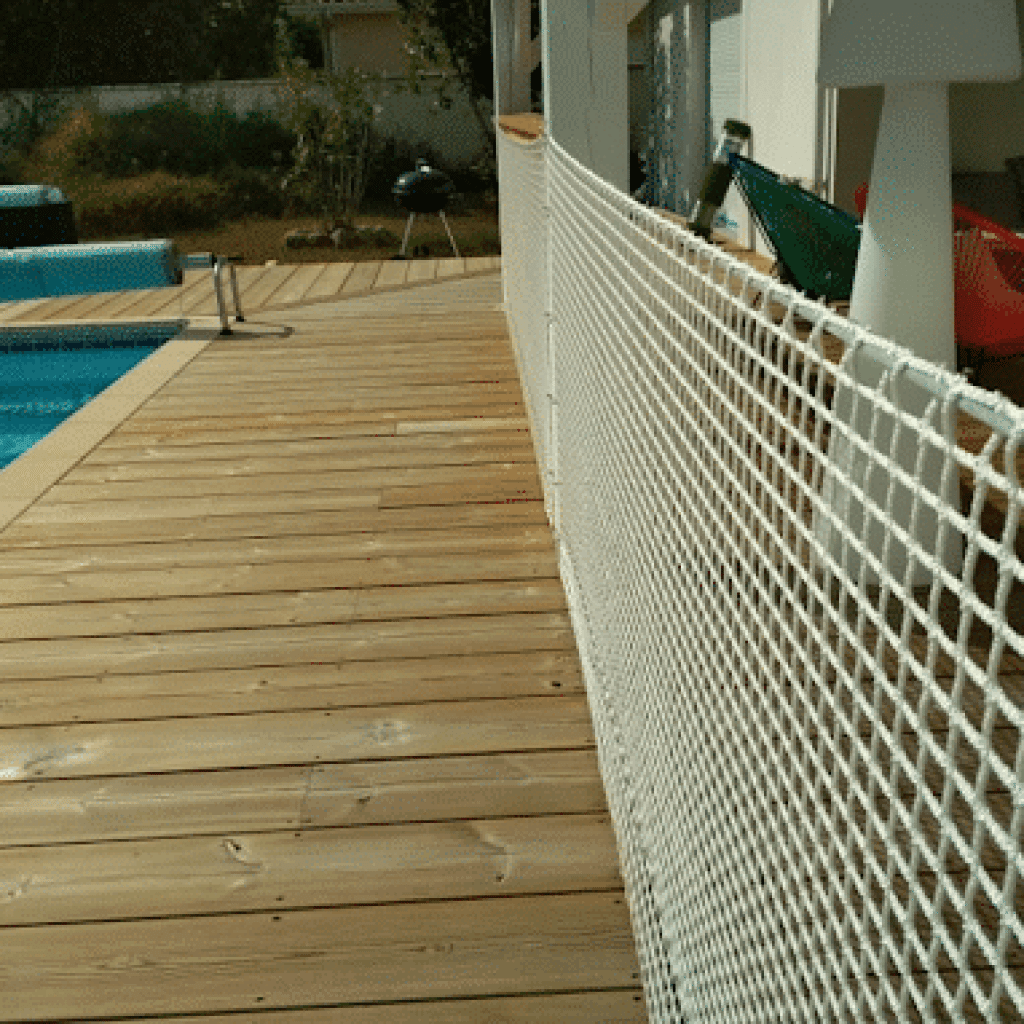 Balcony net
You have a pet and you want to protect your balcony from falling.
Feelnets will make you a custom made net that you can attach to your balcony.
We can offer you several different nets that will be adapted to protect the space. There are different ways to hang or fix it.
We also have a network of partners in France who can install your net.
Bridges on plate or 8*80mm piton, both are suitable for wood.
If you are on a metal structure, we recommend passing the tension rope around the frame.
For structures with concrete, we recommend the 8*80mm pitons with the adapted pegs.
Rope railing
Original and aesthetically beautiful, the rope railing.
Very used in staircases.
Simple to install and very economical.
To do this, you need to place alternating fixings at the top and bottom and then pass the tensioning rope in a very tight coil.