For many years, Feelnets has been manufacturing custom-made technical nets and fabrics for wide variety of uses. Thanks to also having developed expertise over many years in managing riding centres, Feelnets has widened its range of products to include haystack net for horses and cattle. We have worked hand in hand with horse handlers and vets to offer the best solution, a net that combines practicability, safety and cosiness.
Feelnets haystack net for horses: an expert solution
The Feelnets team is well versed in the equestrian world. For ten years, we have been involved in the management of a riding centre based near Bordeaux, France. After starting our business in selling custom-made nets (for boats and houses), it was a natural progression for Feelnets to begin developing a haystack net for horses.
Our interest in making economical, sanitary and safe haystack nets led us to create a product that is adapted to the horses mouths (knotless, to avoid injuries) and easy to use for the horse handler.
One of the main issues with haystacks for horse feed is that they are often laid on the ground, and the horses step on them. The hay becomes mixed with mud and can't be consumed. It's a massive waste both of hay and of money.
Our haystack nets can be held above the ground, available for several horses at the same time. They also allow food to be easily rationed, reduce loss of food and prevent it from getting dirty. Some haystack nets are easily torn, or badly adapted to some haystack shapes. They can also be a hassle to manipulate. Feelnets decided to innovate with a solution that meets all these needs.
We tested several solutions with vets and horses specialists, and after lengthy trials, it became clear that polyester, the fabric used for the Feelnets custom-made nets, met all our expectations.
The only haystack net made of Polyester.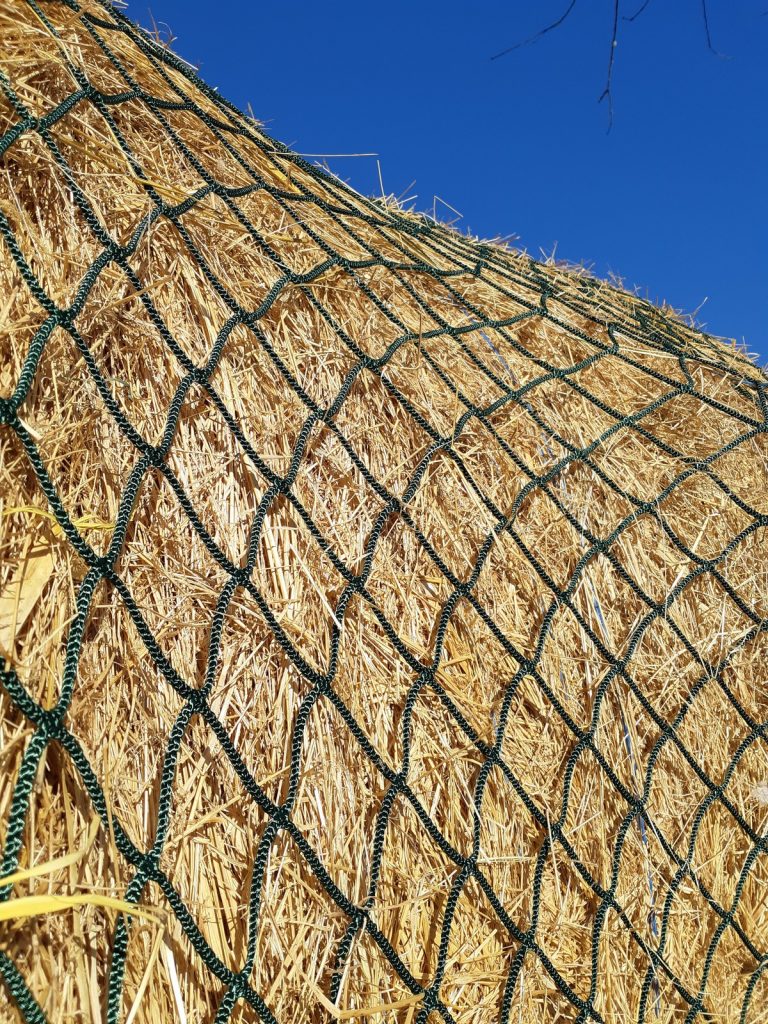 Why is the Feelnets haystack net made of polyester?
It's a tough fabricthat is not damaged by horses' teeth.
It's knotless, which greatly reduces the risk for a horse to harm its teeth or gums while eating.
It's very soft to the touch, offering absolute comfort to the horses.
It's the only non-abrasive material that doesn't turn rough with time.
It's tough and flexible, making it easy to manipulate.
It has an anti-UV treatment and it's weatherproof
Its flexibility allows the handler to use haystacks of any shape
A cost effective product
Feelnets has a complete range of products:
Haystack nets 3,5 metres high (11,5 feet), with various diameters: 1,2m (3,9 feet), 1,5m (4,9 feet), 1,6m (5,2 feet), 1,8 (5,9 feet), 2m (6,5 feet)
Our haystack nets come in 50×50 mm (1,96×1,96 inches) or 70×70 mm (2,75×2,75 inches)
Feelnets haystack nets wrap around your haystack like a sock, and are sealed with an easy to use loop.
Our competitive price, allows you to purchase high standard nets.
—
>> CONTACT US for more information: [email protected]