We all want our homes to be safe, comfortable, relaxing spaces where we can enjoy quality time with our families and friends. Many of us are conscious of hazards in our homes, which can increase the risk of accidents and injuries. If you're looking for ways to enhance safety and keep your family safe, it's an excellent idea to consider investing in a safety net. In this guide, we'll explore some common uses of safety nets and outline the benefits they offer for homeowners. 
For most of us, there's no place like home. Our homes should be sanctuaries that make us feel safe, happy and calm. Sadly, our homes can harbour hazards and there is a risk of accidents and injuries, particularly if you have an apartment or a house with balconies, you have a swimming pool outside or you have young children and lots of staircases or mezzanine levels. Safety nets are designed to reduce the risk of accidents at home, providing peace of mind and extra protection for parents and homeowners. 
How to use a safety net in your home
Safety nets provide barriers and additional protection in parts of the home that may pose a high risk of slips, trips and falls. Here are some popular uses of safety nets:
Make your balcony safe
Balconies are a stunning feature and they enable you to enjoy views and embrace al fresco living but they can be dangerous. If you have balconies on the upper levels of your home or you have an apartment with a balcony garden, you may be worried about the risk of falls, particularly if you have children. A balcony with safety netting will reduce the risk of falls from height while also providing additional security benefits and allowing the entire family to enjoy spending time together outdoors. 
If you are a parent, you will probably have been in a situation where your heart rate has risen sharply while on holiday or visiting friends who have a balcony. Balconies are intriguing for kids and it can be incredibly fun to hang out together and soak up the sunshine. The trouble is that balconies carry a risk of falls and everybody's worst nightmare is to see somebody slip. A safety net balcony is an excellent option for homeowners who have a balcony. With safety netting, you can make your balcony childproof and protect adult visitors too. 
When choosing a safety net for your balcony, take time to double-check the measurements for a perfect fit, explore design options and opt for high-performance, quality materials.
Pool and trampoline safety netting
There are few things that are more fun than bouncing around on a trampoline or splashing around in the pool on a sunny day. Unfortunately, both trampolines and swimming pools can be dangerous, especially for young children.
Trampolines have become incredibly popular and they provide endless hours of fun for children and adults alike. While falling is part and parcel of the experience, there is a risk of falling off the trampoline without the relevant safety measures in place. If your child slips, or they misjudge their landing and they fall onto the ground, they could sustain severe injuries. Safety netting is a simple, effective means of keeping kids safe when they are bouncing and preventing them from falling off the protective mat. 
Having a pool is wonderful but if you're a parent, there may always be a nagging voice in your head that makes you anxious about your children being around the pool. Accidents can happen in an instant and the consequences of falling into a pool can be devastating. Pool nets are a brilliant idea for holiday homes and residential properties with swimming pools and Jacuzzis. Nets are a deterrent for young children and they also provide a safe surface if a child does crawl or try to jump into a pool. 
Fencing and stair railing
Walking up and down the stairs may be second nature to adults, but if you have small children or you have family members with mobility issues or conditions that affect their balance, the staircase can be a major hazard. Falling and slipping on the stairs are among the most common types of household accidents. If you feel nervous every time your child goes near the stairs or you're looking for effective ways to make your home safer for older relatives, for example, using safety nets is an excellent idea.
You can use safety nets to provide additional, more robust protection for landings, stairwells and staircases that have floating steps or open sides. Netting will prevent accidents and ensure that bodies are cushioned in the event of a slip or trip to lower the risk of serious injuries. Parents can also use netting as a means of blocking off staircases they don't want their children to use and a deterrent that discourages playing on the stairs. For young children, climbing the stairs is an adventure but no parent wants the staircase to become the play area of choice in the home. 
In addition to safety netting for staircases and stairwells, safety net security can also be beneficial for outdoor areas and parts of the home you may be keen to restrict access to or block off. Fencing nets provide additional security, enforcing barriers and boundaries to keep children and pets safe and prevent them from escaping. Nets can also deter people from wandering onto your property and provide more privacy.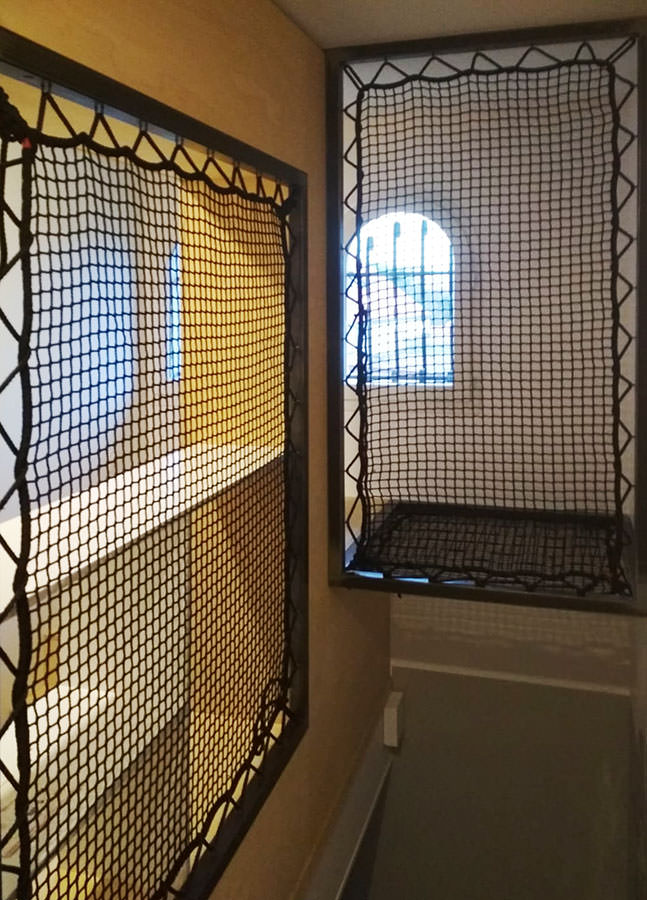 Feelnets: A custom safety net designer for your home
We all want our homes to be safe havens and it's particularly important to prioritise safety when you have children or pets. Safety nets for the home provide an effective solution for reducing the risk of accidents, such as slips and falls, and keeping people safe. Whether you have a swimming pool, a balcony or staircases you're keen to keep young children away from, using safety nets to childproof your home and keep adult visitors safe can help you turn your home into a secure sanctuary and lower stress and anxiety levels. 
CONTACT US