How to set up a hung mezzanine net?- Can I set up a mezzanine net in the house myself? ? What fixings shall I use? Feelnets answers all your questions and tells you everything you need to know about setting up your custom mezzanine net before you start.
Let's begin with the mezzanine net
Setting up a mezzanine net offers many advantages and enhances cosiness in your house.
The net creates a new and original indoors space. It's a new room to chill, relax, read a book or watch a movie. Fill it with cushions and a winter fluffy blanket and you're all set for a laid back moment in your hung net.
If you have children, it will become their new playground and the place to be anytime of the day.
On the decorative side, the net also plays its part by modifying the light and the perception of space, adding a unique touch to your interior.
The price is another big advantage! A mezzanine custom netis very affordable and offers great value for money for the advantages it brings.
Mezzanine set up as a chill zone with a Feelnets net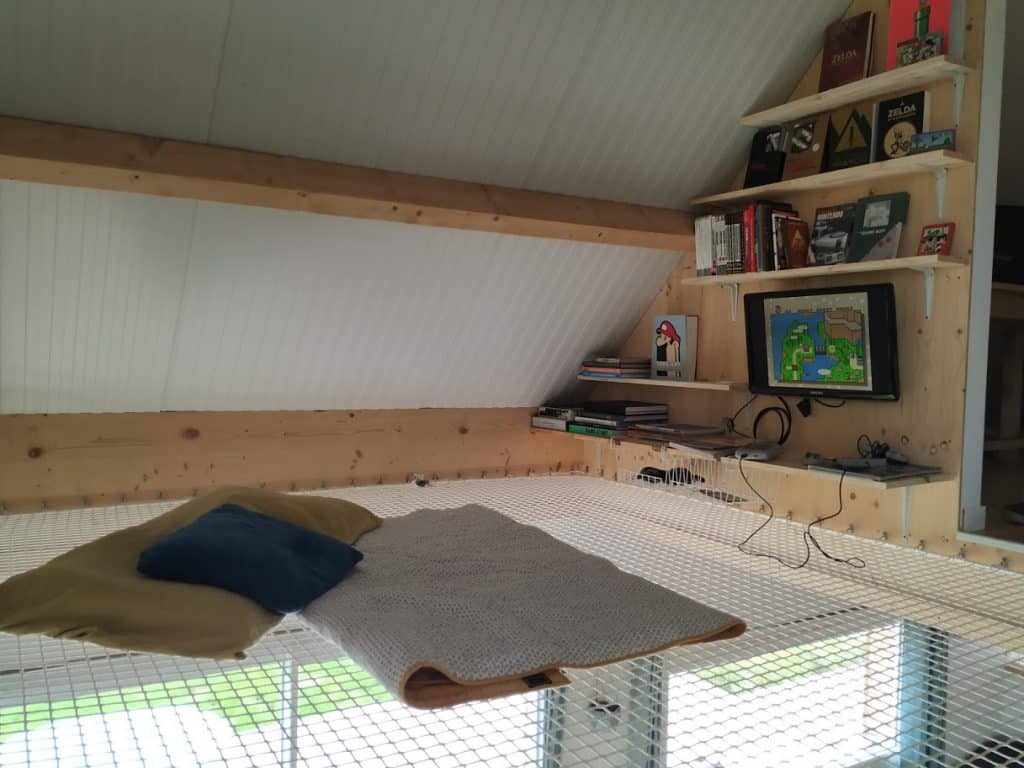 Read our article: How do I choose the right net?
Let's focus now on the main subject of this article: how do I install a mezzanine net in my house?
Can I install a mezzanine net on my own?
You can install a hung mezzanine net on your own, it's really easy to do it with a friend.
However, 96% of Feelnets customers do it themselves, so you can too!
To install the net you need to align the fixings, all around the periphery of the space, every 150 millimetres (appr. every 5,9 inches)
We have wood and concrete fixings (you will need anchors matching the material to set up your mezzanine net, they are sold apart).
Your parcel comes with installation guidelines, which include the following steps:
How to install the fixings
How to centre the net
How to put tension on the rope
How to knot the net
You don't need special tools to set up your installation, all tools are listed in our guidelines
Woodworkers, carpenters, roofers (or other craftsmen) will know how to set up our custom nets, if you're not feeling like doing it yourself
However, If you don't want install your net yourself, you can use our Feelnets installers network. We can put you in touch with our indoor net installation experts who can provide you with a quote.Ask for a quote.
If you want to be part of our Feelnets installers network feel free to contact us.
Can I set up my indoor net in plasterboard walls?
It formally misadvised to set-up an horizontal net in plasterboard.
Your net will not only be fragile but also dangerous.
We strongly recommend you to use strong materials such as wood, concrete, or steel to set-up your custom net.
You will need to use the relevant fixings depending on the material that will support you net.
Feelnets can advise the best fixings solutions for your indoors custom net.
Feel free to contact us for any advice.
You can also leave a comment about this article and we will reply as soon as possible. Answers will benefit all the future readers.
How to set up a custom net in an IPN beam?
An IPN beam (with a regular I shape) is simply a steel beam.
It's really easy to install a mezzanine custom net on an IPN beam. You will need to weld hanging points every 150 mm (every 5,9 inches) on your beam.
You can also drill the beam every 150 mm (every 5,9 inches), but make sure to perfectly sand the edges of the holesto avoid any damage to the rope.
Another way is to weld a metal bar to the beam to pass the lacing rope around it (which limits the fixings to every 150 mm)
Can I fix my custom net on three sides only?
Being on a four-sided space, you must absolutely fix all four sides of your net.
As a matter of fact, without fixings on one of the sides, your net will not be strained and will be useless. You will not be able to step on it and the tension will not be balanced.
Zinc-plated eyebolts of 8×80 millimetres (appr. 0,31 x 3,1 inches) cost less than stainless steel saddles, which offers a great saving when you have to install them all around your net.
You need to pre-drill your support, then screw all the eyebolts which takes time during the set-up.
Every eyebolt can withstand 80 kgs. (176,3 pounds)
The threaded rod is 50 mm long (1,96 inches).You need to drive it inside the wall 60-70 mm deep (up to 2,75 inches deep)
Stainless steel saddles on plates are more expensive but can improve the finish
Feelnets insists that your net should be as close as possible to the fixings to leave the minimum void possible between the edge of the net and the wall.
Stainless steel saddles on plates are sold with or without screws. The screws are 5 x 50mm (0,19 x 1,9 inches) stainless steel torx head.
Can I use eyebolts and saddles on plate?
Both of them are perfectly fit to fix indoors custom house nets or safety railing nets. However, you must be aware that the eyebolt will protrude a few millimetres.
Can I put a net outdoors?
Of course!! All our nets are UV proof, and can be set indoors or outdoors.
You can find our nets all around the world, in luxury hotels, or on the boats of our partners. (il y a un lien vers les partenaires ici)
Net Lacing
Simple or double lacing?
If you have children we advise double lacing.
Children move more than adults, and double lacing diminishes the vibrations they cause. In addition, it is more comfortable for tiny feet. Double lacing is explained in our installation booklet.
If you don't have children you can chose simple lacing.
Can I use E 8mm lacing (0,31 inch)?
If you choose double lacing, you might want to consider using 8mm lacing, which offers a finer finish.
Can I choose between different colors and thickness? 
Feelnets offers black, red, grey and blue, goingfrom 3 to 10 mm thickness (from 0,11 to 0,39 inch)
All our ropes are in polyester.
For horizontal nets, like the house net or the mezzanine net we advise 8 to 10 mm thickness (0,31 to 0,39 inch thickness)
For vertical nets like safety railings, we advise a range of between 4 and 8 mm thickness (0,15 to 0,39 inch thickness).